Everywhere you go you see these amazing outdoor sofa sets, or beautiful sectionals that you can't help but keen in on and automatically feel motivated to acquire one for yourself.
However, the main issue is finding one of these outdoor sectionals for a reasonable price, and of reasonable quality.
With that being said, there are actually a variety of exceptional options available online, and especially in regard to sectionals made for smaller spaces.
Opting to go with an outdoor sectional to help fill a small space in your backyard, garden, or patio can be a spectacular way to add value to your outdoor space.
But finding the right piece of furniture for you can most certainly be difficult, so to help you get started we have outlined some noteworthy considerations in the following sections.
What to Consider When Buying an Outdoor Sectional?
Size and Shape
One of the first things you are going to want to think about before purchasing an outdoor sectional is the size, and shape of the item itself.
Since the objective is to fill a small space, keep in mind the dimensions of the space you are hoping to fill, as well as the product you are looking to buy.
While all of these major brands have exceptional customer service teams, the last thing you want to worry about is putting all this money, and all this time into something. Only for you to attempt to install it, and realize that it doesn't even fit. This will likely leave you waiting (hopefully) weeks before getting a return, or exchange.
So being conscious of the size, shape, and weight of the item is an essential first step.
Does it Fit into My Outdoor Décor?
Outside of it physically fitting into your outdoor space, you should also be asking yourself if it's going to fit in aesthetically with the rest of your outdoor décor.
This could mean matching it with similar, or complementing colour scheme to that of it's environment. Or even just keeping up with certain patterns, textures, or materials used throughout the space.
Quality of the Sectional – Will it last?
The final (and debatably most important) factor to consider is the overall durability, and longevity of the sectional. All of the sectionals listed below are specifically built for the outdoors, but that doesn't mean that they are all made the same.
Some will be made with higher-quality materials, both in terms of the cushions/padding as well as the overall structure itself. And some will come with glass-top coffee tables, which are easier to clean, but obviously more fragile as well.
Consider the UV% each item can handle, if you are going to be placing it in an area that frequents a lot of sunlight, then you are going to need a sectional that can handle that. Some are made with steel frames, some are made with aluminum frames, and some are made from wicker.
They all offer certain pros and cons, the importance lies in your ability to understand your individual preferences as a consumer.
Top 10 Outdoor Sectionals for Small Spaces
1. Best Choice Products Outdoor L-Shaped Conversation Sofa Set
Flying in as our #1 recommendation in terms of outdoor sectionals for small spaces is the Best Choice Outdoor Conversation Sofa Set. This stylish option is made with a sturdy steel frame, and a gorgeous handwoven wicker design, topped with comfortable (all-weather) cushions. It also features a trendy side table that comes with a tempered glass top for easy cleaning, and a sleek finish.
This unique sectional also comes with a detachable lounger, so you can organize the layout of the sectional in whichever way fits your space best. With nothing but spectacular reviews and a calming aesthetic, this sectional easily presents the greatest option for small outdoor spaces.
2. LOKATSE HOME 3 Piece Conversation Set
LOKATSE also helps to provide a modern take on a classic design. Their Home 3-Piece Conversation Set is built with powder-coated steel frames, and all-weather PE wicker weaving, and comfortable cushions. It's only a 3-piece set, including 2 armless chairs, and 2 corner chair, and so it illustrates a much simpler, yet elegant design. All chairs have seat and back cushions, and are very easy to assemble.
This deep-seated design may seem minimalistic, and simple, but it provides a very practical, yet comfortable solution to help fill any small space. LOKATSE has done a beautiful job at illustrating the impact of simple designs, with a modern twist, and superior strength, and durability.
3. Riley Outdoor Faux Wicker Print 3 Seater Sectional Set
See on GDFstudio
The Riley Outdoor Sectional slides in as our 3rd best option for outdoor sectionals in small spaces, as it provides a reasonably priced, high-quality, sectional that is built to last. It features weather-resistant cushions, and durable polypropylene material. This high-quality design is made to be highly durable and weather resistant, and is created using injection molding to create a supremely durable product (far above the average in this department).
The set itself includes one right armchair, one left armchair, one armless chair, one ottoman, and one coffee table. A pretty good haul considering the price. The Riley is one of our top recommendations due to its second-to-none durability rating, as you are guaranteed to be getting one of the sturdier sectionals on the market. If longevity or strength/sturdiness of the product are concerns for you, then look no further!
4. Nealie Modern Outdoor Dark Gray Aluminum Sectional Sofa Set
The Nealie offers yet another amazing deal with their Modern Outdoor Aluminum Sectional Sofa Set. It's an aluminum frame, and water-resistant cushions mean that it is specifically built to withstand the outdoor elements. It is a 5-piece sofa set, and so this product will provide more versatility than other available options.
Built to seat at least 3 at a time, this unique design also comes with an ottoman, and a coffee table, making it the perfect addition for any small outdoor space. This is an ideal choice for anybody looking for the most versatility, for the best price.
5. Christopher Knight Home Alice Outdoor 5 Piece Acacia Wood Sofa Set
Another beautiful option is Christopher Knight's Alice Outdoor Sofa Set. The Alice is made with a gorgeous, dark teal acacia wood material, while helds to add a durable/natural hardwood exterior, that can withstand all elements. The Acacia wood is a perfectly solid, heavy frame that resists wear and tear, and won't darken over time.
This amazing sectional also comes with water-resistant cushions, and provides a large seating area providing premium comfort for your guests. Not to mention the fact that this beautiful design is completely covered for up to 1 year with their warranty, so you'll have peace of mind knowing that if anything goes wrong within the 1st year, you're fully covered.
6. LOKATSE HOME Sectional Conversation Sofa 6 Pcs
LOKATSE provides a more premium option as one of the more expensive options on the list, and yet this unique design sets itself apart from the crowd in a few major ways. This 6 Piece Sectional Set is the perfect combination of durability and convenience as it carries a similar powder-coated steel frame, with PE wicker covering the set.
However, the desktop is made of aluminum-plastic panel, and has raised edges, which makes it easy to clean, and prevents your things from sliding off.It's ergonomically balanced with extremely soft cushions, and a comfortable design to provide for the ultimate leisure experience.
Also, the set itself is combined with 6 parts, and so there is quite a bit of versatility to adapt to any space you're looking to fill. LOKATSE has provided us with one of the most luxurious sectionals on the market, so if you are simply looking for the best of the best. Then the LOKATSE HOME Sectional is your guy!
7. Devoko 5 Pieces Patio Furniture Set
Another spectacular choice to help you fill that lonely space in your backyard (or front yard) is Devoko's 5-Piece Patio Furniture Set. This amazing wicker design comes in 3 different colors, and so offers more customization than some other options. It is also built with thickened seats and back cushions for extraordinary comfort and can set up to 4 people.
This set actually made it on our 10 Most Comfortable Outdoor Sectionals article!It is another durable design made with high-quality PE wicker, and a tempered glass table that is easy to clean. The unique thing about this product is that it is very multifunctional. It includes 2 corner chairs, 1 armless chair, 1 ottoman, and 1 glass coffee table, allowing you to test out multiple combinations with ease.
This 5-Piece set also comes with a warranty, and support network so even if you do encounter any problems, you have a full network of people willing to help.
8. Hamptons Outdoor Three Piece Sectional (Luxury Option)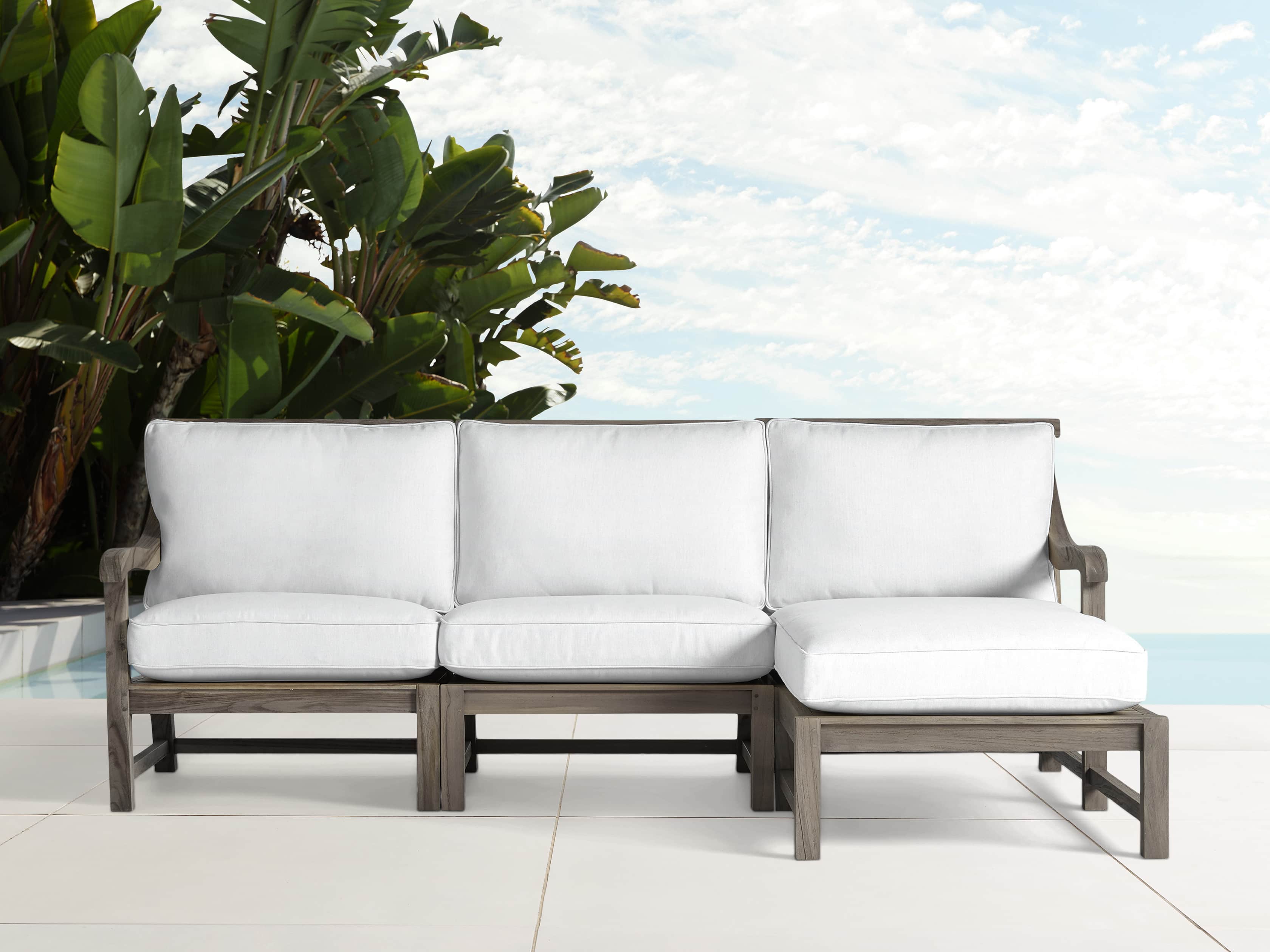 Hamptons Outdoor 3-Piece Sectional is the most expensive product on this list, and for good reason. Everything about this option speaks to luxury, as the collection is crafted from sustainably harvested teak wood (very natural-looking, and durable). Teak hardwood is known to contain natural oils that repel insects, prevent drying, and resist moisture.
It is also resistant to fungal decay, rotting, and warping due to temperature. With a hand-crafted Artisan finish, using pigment and a wire brush to touch up the details.This unique design offers outdoor cushions that are mold/mildew resistant, weather-resistant, and dense foam padding that enables high elasticity, providing ideal support, and evenly distributing weight.
The fabrics themselves are woven from 100% solution-dyed acrylic, and are stain-resistant, and provide up to 98% UV resistance. The Hampton 3-Piece Sectional undoubtedly illustrates the most durability, flexibility, and comfortability. But it also comes at a far greater price.
9. Outsunny 5 Piece Outdoor Patio PE Rattan Wicker Sofa Sectional Furniture Set
As we close out our top 10, we would be remiss if we didn't mention Outsunny's 5-Piece Outdoor Patio Furniture Set. This tremendously durable wicker set comes in 4 different color schemes, and so you will have more customizable options than with other products.
The design itself is completely reconfigurable, as it includes 2 corner units, 1 armless middle sofa, an ottoman, and a matching table. It is also woven with durable, and low-maintenance that PE rattan material that replicates the look of traditional wicker, but it's more resistant to sun, rain, heat, and cold.
With fade-resistant and a galvanized steel frame, the Outsunny 5-Piece Furniture Set provides us with one of the more durable, yet affordable options on the market. This modern design also allows for the most optimal relaxation, with extra-deep, low modern seating, and cozy throw pillows.
10. Flieks Outdoor Round Sectional Sofa Set
The Flieks Outdoor Round Sectional Sofa Set is an especially unique outdoor sectional as it provides us with our first (and only) retractable canopy design. This trendy sectional is amazingly efficient, as it illustrates an ideal hideaway for premium comfort and relaxation. It comes with an elegant sunbed, and thick padded cushions and throw pillows to create the perfect small daybed when combining all the seats. Having the option to either separate the seats for multiple seating areas. Or to create one massive, comfy surface to lay down and relax by the pool, is crucial.
However, the durability of the product is not to be questioned either, as it is made with high-standard PE wicker, and is sturdy enough to withstand rain, and wind (can hold up to 250 lbs). While not the most expensive sectional on this list, it is pretty high up there in the scheme of things, and so price might be the only hesitation for some.
Final Thoughts
We have without a doubt explored some beautiful options in terms of outdoor sectionals for smaller spaces. Everything from the sturdy steel and aluminum frames to the classic wicker designs. With each carrying unique traits, there's really no going wrong in your decision-making (so long as you stick with the list provided).
All that's left to do is make your decision!
Jamie is the founder of The Backyard Pros. When he was 15 years old he started working at a garden centre helping people buy plants, gardening products, and lawn care products. He has real estate experience and he is a home owner. Jamie loves backyard projects, refinishing furniture, and enjoys sharing his knowledge online.